Headquartered in Jasper, IN, Ackerman Oil Company, Inc. has evolved through three generations in the petroleum marketing business. E.B. Knies started in 1940 as a consigned agent for D-X with one tank truck, distributing petroleum products to accounts in and around Dubois County.
In 1963, following the untimely passing of Mr. Knies, he was succeeded by his son-in-law, Raphael Ackerman. Until 1963, Ackerman had been involved in a farm and mining operation. Under Ackerman's leadership, the consigned agency grew. In 1972 Ackerman began purchasing other petroleum distributorships, which was the start of our existence as an independent marketer. At about this same time, Sunoco acquired D-X.
Today the company is a diversified petroleum marketing concern with complimenting business lines. Our company's CEO is Raphael's son, Mike Ackerman. We are proud to lead our sales efforts with World Class Products including: Petro-Canada Lubricants, Sunoco Gasoline, Southern Indiana Propane, and innovative products such as Bio-Diesel and E-85. We are a quality driven company, and have achieved ISO 9001 certification, and supplier quality certifications including Shell Lubricant's DPQA and Holly Quality Assurance. This is all possible because of the commitments of our employees to safely and efficiently provide the best in customer service using documented methods to insure that the products we supply are of certifiable quality.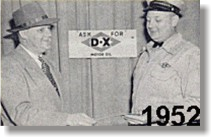 Territory Manager R.C. hall presented Bulk Station Agent E.B. Knies a congratulatory message from the Eastern Division management for exceeding 1,000,000 gallon sales in 1951. This long-sought sales goal was realized when Knies, ably assisted by Tank Truck Salesmen Thomas Schitter and Linus Dick delivered 1,014,754 last year. Agent Knies has set his next sales goal at 1,250,000 gallons.